Connecticut Motorcycle Insurance
Advanced American Financial provides motorcycle coverage for bikers in Connecticut and Rhode Island. Based in New Haven County, we work with hobbyists and commuters who own motorcycles, scooters, dirt bikes and ATVs. Both Connecticut and Rhode Island require minimum insurance coverage for motorcycles, but we offer even more. Before you hit the road or the bike trail, contact us about motorcycle and bike coverage with real value.
Basic Coverage
Minimum legal coverage will protect you against certain medical and property damage liability in the event of an accident. It will not cover your injuries if you cause the accident, and it will not cover damage to your bike. Additionally, minimum liability may leave you to pay excess property damage or medical bills if they rise over the limits of your insurance. Although minimum coverage might be less expensive in some circumstances, in many circumstances insurance carriers are eager to sell policies to those who show responsibility by carrying higher limits and more coverage.
Coverage You Need
The coverage you really need is most likely more than the minimum legal limits. Additionally, better coverage is probably less expensive than you might think. Your insurance agent at Advanced American Financial can help you with
Collision coverage to pay for damage sustained by your bike in an accident
Medical coverage to pay for hospital bills and medical treatment for you and a passenger
Comprehensive coverage to pay for damage to your bike that is unrelated to an accident
Extended coverage options such as protection for custom parts and equipment
Uninsured/underinsured motorist coverage to protect you in the event of a hit-and-run or a collision caused by an underinsured driver
Available Discounts
We work with several different insurance providers in order to offer the best coverage options and prices to each of our customers. Because of our partnership with these providers, we can shop around to find discounts that meet your individual situation. Available discounts may include
Safe driver discounts
Good student discounts
Discounts for safety course completion
Multi-policy discounts
Incentives for wearing a helmet
Get your free online quote now, or call us during business hours to learn more. We look forward to protecting you and your sweet ride.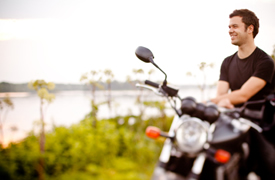 Get started now on a free quote for
Motorcycle Insurance